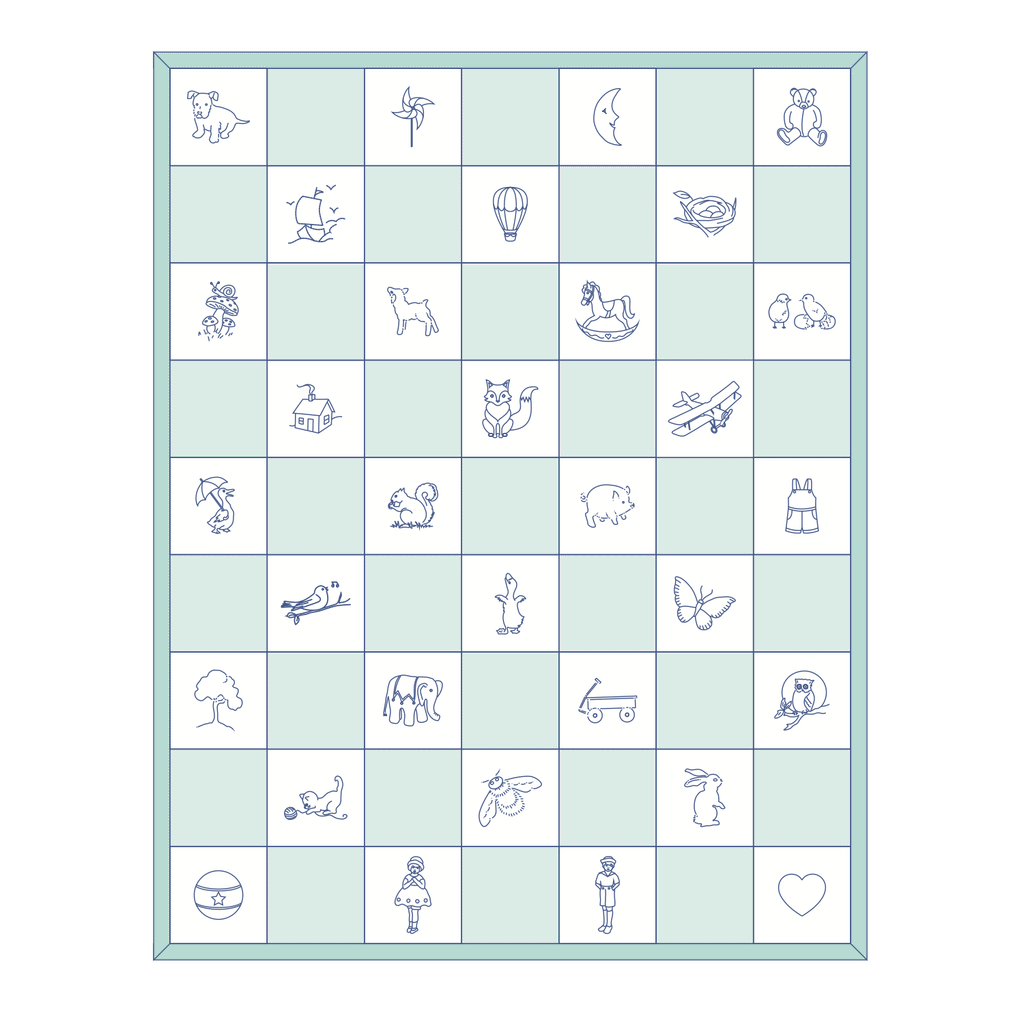 Vintage 32 baby quilt kit
 The Vintage 32 Baby Quilt Kit offers the most stitching fun of all our designs! This collection includes all of the images from the retro 18 plus 14 great new ones.Your best bet for a large group or for the true embroidery enthusiast. It caters to a wide range of stitching abilities—from first-timers to the more experienced.
Our 32 image quilt kit is a classic checkerboard layout featuring 32 pre-printed image squares all ready for you to embroider along with pre-cut alternate fabric squares in the color scheme of your choice.  We have selected beautiful DMC embroidery floss, coordinated gingham binding, and soft Cuddle backing to finish your special quilt. You supply the batting. The finished quilt will be 42" x 54"—the perfect crib size. Kit arrives in a classic cotton drawstring bag suitable for gift giving.
We use this kit as a  baby shower activity by having each guest embroider a square. Here's how you do it: Start by reading the enclosed  booklet for embroidery instructions. Before the guests arrive, cut out the 32 image squares along the grey cutting lines. Make sure you have a hoop and needle for each participant (check out our party pack for everything you need). Cut your floss colors into yard lengths so your guests can choose their color strands.  Have everyone pick a square to embroider and away you go. This is so much fun and meaningful, that it has replaced shower games for our families and friends.
Another way to use the kit is to include a little package with an embroidery square, floss, hoop and needle along with the shower invitation. Ask guests to bring their finished squares to the party to share their sweet stitches. Either way, friends and family can join together to create a lovely heirloom quilt for the baby to come. 
Each kit contains:

32 images printed on Kona cotton 

31 pre-cut fabric squares 6.5x6.5

pre-cut gingham binding

Minky backing fabric 

embroidery floss colors

2 embroidery needles 

 5" hoop


stitch guide 

instruction booklet 

batting not included